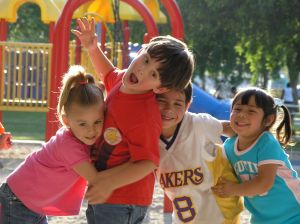 The preschool is situated in a peaceful residential area in a detached house with a cosy garden and playground.
Workshops are held in four colourful rooms equipped with didactic material and "smart" toys.
There are also 3 bathrooms, a kitchen and a cloakroom in the building.
The preschool pursues a 21st century preschool teaching programme authorised by MEN (Ministry of National Education). It operates on the basis of both the obligatory preschool educational programme "Cheerful preschool and friends" WSiP 2009 and the authors' theme programmes of a qualified pedagogical staff demonstrating fluency in English.
We work under the relevant patronage of the UAM (University of Adam Mickiewicz) Pedagogical Department in Poznań.
Our preschool provides children with:
4 age groups (2,5-year-olds, 3-year-olds, 4-year-olds, 5-year-olds)
Preschool opening hours are 7:00 – 17:00.
We also anticipate duties during holidays (winter/summer holidays, long weekends, bank holidays, between Christmas and New Year's) and on Saturdays.
Preschool fees:
tuition
registration fee
There is also a possibility of leaving your child in our care in the following situations:
24-hour care based on a previous agreement (additional charge).
after work hours, i.e. after 17:00 (additional charge).
on Saturday (additional charge).
A special camera section has been made available exclusively for parents.
Each parent receives an individual password, which can be used to log on to the camera section on our Website in order to see what your darling youngster is doing at the moment.
Individual passwords are a guarantee that no one else is watching your kids.